Highest driving comfort - even off-road
Snow-covered roads, wet meadows, gravel, mud - the TGE 4x4 just gets you there. Oberaigner developed a powerful all-wheel drive concept for the MAN TGE, based on their decades of experience in the field of large-scale series production of all-wheel drive systems. The Oberaigner all-wheel drive is available for all the rear-wheel drive variants of the MAN TGE between 5.0 and 5.5 tons.
Making progress - made easy
The permanent all-wheel drive solution does not involve an increase in height and adds just 130 kg to the weight. This is a clear benefit for personnel transporters and ambulances, since the step-up for entry is no higher than normal, whilst the payload is not reduced to any great extent.
Development at a high level
A Torsen differential on the transfer case provides a load-dependent power split between the axles, which means: If the traction becomes less on one axle, more torque is automatically directed to the other axle - entirely mechanically and without delay! Individual wheel slip is also counteracted with electronic brake interventions.
Convincing off-road performance of the MAN TGE 4x4
Major customers, dealers and bodybuilders were amazed at the test drives in the Terenowiec site near the production facility in Poland. The converted 4x4 vehicles with all-wheel drive technology convinced in rough terrain with improved traction, driving stability and driving dynamics. The permanent all-wheel drive solution in cooperation with MAN Truck & Bus does not require a level increase and poses an additional weight of only 130 kg.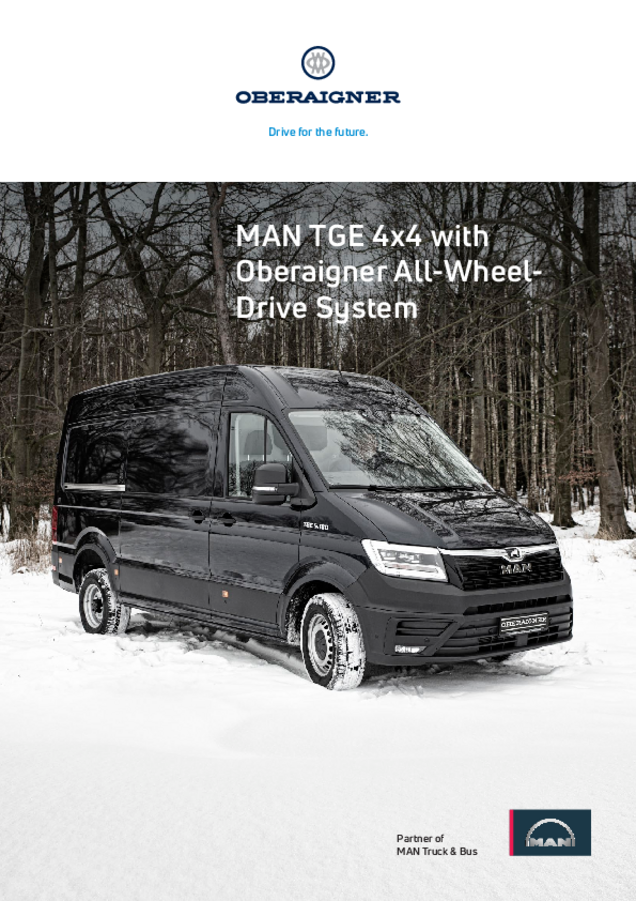 The technical data sheet is a brief overview of the product and its features. Our sales department would be pleased to answer any other technical questions you may have.
Purchasing procedure new vehicles
The current non-binding delivery period from delivery of the base vehicle is 4 weeks.
Purchase your MAN TGE, including all necessary special equipment codes, from the MAN dealer of your choice.
Purchase the desired 4x4 conversion from us.
The base vehicle you have ordered will be delivered to the Oberaigner works in Rostock-Laage and will be converted.
Your TGE 4x4 will be delivered to your MAN dealer and then delivered to you from there.
Our Spare Parts Portal contains the all-wheel drive operating instructions for new vehicles of the current model range from the specific vehicle manufacturers.
For used vehicles, it may be that a different/older version of the operating instructions listed here is applicable.
All available versions can be seen at: etk.oberaigner.com.